You know when something catches your eye and you just have to have it? You have no idea what its called or where to get it from, but you will Google it to death until you stalk it down.
The object of lust this time was a bright pink lipstick. If you have read my blog before you may remember that pink lipstick scares me. I go for nudes, browns, peaches or on occasion coral - but pink? No.
But then yesterday I was watching
ITV
at lunchtime and a little trailer came on with a close up of a woman having her lips painted a bright pink colour. I found myself just staring at the colour - it was amazing. Embarrassingly I turned on the TV at the same time today hoping to get a better look and ahem... took some photos of my TV so I could think about the colour some more.
ITV's trailer featuring the mysterious pink lipstick
I am certain that I cannot carry off a blue toned pink, but I have tried. I bought
MAC
's
Girl About Town
because it looked so good on Tanya Burr in one of her videos. In fact it looked quite natural on her - but on me it is practically fluorescent! It sits safely amongst my
MAC
collection, still waiting for me to dare to wear it outside the house.
I have a
L'Oreal Glam Shine Stain Splash
in
Infinite Fuschia
. I love these stain/glosses and decided to be brave and try a bright fuschia. This shade isn't even available in the UK so I made my husband track it down for me when he was working in Australia. But I have only worn it once and felt quite self conscious about it all evening (helped by a comment from a family member along the lines of 'its a bit bright isn't it').
I also have various dodgy frosty-pinks that I have accumulated from free gifts over the years. They all remain tested but unworn. It is so frustrating to get a free gift from a brand like
Clinique
only to find the lipstick is just a hideous shade! As a child of the 80s perhaps it is too reminiscent of big hair, perms and frosty lips. If you remember things the first time round then it is hard to embrace the revival.
Then there is that sort of Glamour Model, Barbie doll, dare I say Porno look. You know what I mean, anyway that is SO not what I want to achieve... All of this has added to my fear of pink lipsticks.
But when I saw the
ITV
trailer I just loved the colour. It seems a warm pink to me, not too blue toned and I wondered whether I could pull it off.
I had a little snoop around
Boots
today swatching away trying to find a similar colour, but couldn't find 'the one'. For a paler lip I prefer a moisturising shiny finish where as I think darker colours look better in a matte finish.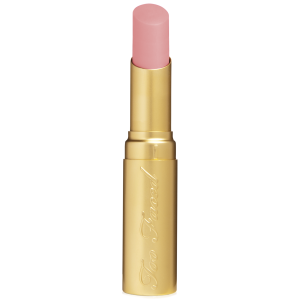 Too Faced La Creme Lipstick in Naked Dolly
I found myself drawn to the
Too Faced
display. I found some great
La Creme
lipsticks in their Nudes, Pinks and Spices ranges. I loved the slim gold metal tubes and the formula seemed nice and glossy. (They aren't on the
Boots
website for some reason but you can also find them in
Debenhams
HERE
if you want to see the shades). I was quite drawn to
Naked Dolly
and
Juicy Melons
, although I thought
Naked Dolly
may not be pink enough and
Juicy Melons
may be too dark. But at £18 I would have to be really sure I was getting the right shade.
Next stop was
Smashbox
. Their
Be Legendary
lipstick in
Posy Pink
seemed to be a good shade (in
Boots
HERE
). But again at £15.50 I would want to be sure it was the right pink for me.
Smashbox Be Legendary Lipstick in Posy Pink
The only thing is that I am lusting after a sunshiny-pink lipstick, but I have a completely different skin tone to the model in the
ITV
trailer. The model has a darker skin tone where as I am fair, and colours always seem to look brighter on me.
So I'm confused and I'm hoping you can help me with this one. Can you suggest a lipstick that matches the one in the trailer?
Is it in fact a coral and am I barking up the wrong tree completely? Even if I track it down, would it suit my colouring...?
Help!!!